Nearest hamlets: Paranymfoi, Treis Ekklisies
Distance: 6.7km
Duration: 2.5 hours (downhill all the way)
Entrance coordinates: 34° 57.608'N / 25° 7.170'E (Agios Pavlos Church)
Exit coordinates: 34° 57.199'N / 25° 8.128'E (Treis Ekklisies)
Trail type: Well-trodden trail with markers
Difficulty: Moderate
Recommended season: Year-round (be careful on rainy days)
Amenities: There are cafés at Paranymfoi and, in the summer, taverns, cafés and accommodation at Treis Ekklisies
The trail affords an exceptional view of the Libyan Sea and the coastlines of Asterousia mountain range, which suddenly plunges into the sea, creating coves and sea caves that are unique in Crete.
From the exit to Paranymfoi head on for approximately 1 km on an easy-to-drive dirt road until the byzantine church of St. Paul, where you can park and start your hike on the well-maintained trail that leads down to the coastline.
About halfway down there is a sign pointing towards Tris Ekklisies and Koudouma Monastery.
Follow the first sign and further along you will encounter the largest natural carob tree forest in Europe. The trail continues along the sea until Tris Ekklisies, built at the exit of Abas gorge.
To return, you have two options: (a) you can have arranged to have a car waiting at Tris Ekklisies so as to head up to Paranymfoi, (b) to hike another three hours uphill along the 'Klisoura' trail towards Paranymfoi. The ascent follows a fairly visible trail, which, however, is rather rough going.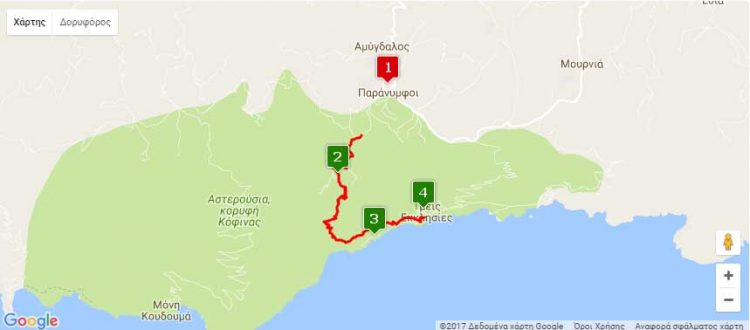 source: archanes-asterousia.gr