Nearest hamlets: Agios Vasileios, Houdetsi
Distance: 2.4km (including the way back)
Duration: 50 minutes
Entrance / exit coordinates: 35° 11.810'N / 25° 11.281'E (Agios Vasileios)
Entrance / exit coordinates: 35° 11.662'N / 25° 10.861'E (Houdetsi)
Trail type: Well-trodden trail with markers and partially facilitated access
Difficulty: Easy
Recommended season: Year-round (be careful on rainy days)
Amenities: Taverns, cafés and accommodation can be found at Agios Vasileios, Houdetsi and Peza. Travellers can camp in the Old Primary School building of Agios Vasileios, following arrangement with the Cultural Association / In Agios Vasileios; excellent quality home-made local products are on sale at the Women's Cooperative.
The slopes and beds of gorges have always been connecting routes leading to hamlets or destinations when there were no road networks. Spiliotissa Gorge is a classic example of an access route from Agios Vasilios to Houdetsi and back. Not so much from the bed of the gorge, which is difficult to access due to the wild vegetation, but along an old path that had been carved approximately along the middle of the western slope of the gorge, ending at Spiliotissa [Madonna of the Cave] Convent. At present, the trail that has been opened runs parallel to the bed, thanks to the wooden posts and steps created to assist visitors to this beautiful little gorge.
If you find yourselves at Houdetsi, follow the signs and head down the wooden steps into the lush green gorge. Towards the trail's exit, near the village of Agios Vasilios, you will find the Sinai Convent of Panagia Spiliotissa, which lends its name to the gorge (Visits can be arranged; Tel: 2810-741370).
  Κατεβάστε το KML αρχείο της διαδρομής στη συσκευή σας:  (kml) Φαράγγι Σπηλιώτισσας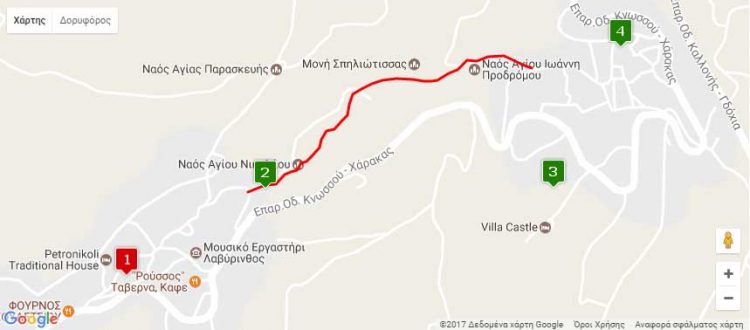 source: archanes-asterousia.gr