Nearest hamlets: Rotasi, Ethia, Mesohorio, Pyrgos
Distance: 9.7km (Rotasi) – 4.4 km (Ethia)
Vorno Gorge: 5.3 km
Duration: 6 hours (Rotasi) – 2 hours (Ethia)
Vorno Gorge: 4 hours
Entrance / exit coordinates: 35° 0.542'N / 25° 10.731'E (Rotasi)
Entrance / exit coordinates: 34° 59.325'N / 25° 11.563'E (Ethia)
Trail type: Rotasi – Ethia: Carved trail , Vorno Gorge: Goat path without markers
Difficulty: Rotasi – Ethia: Moderate , Vorno Gorge: Difficult – some stretches are along cliffs
Recommended season: Spring, summer, autumn (avoid high temperatures, because you will be constantly exposed to the sun)
Amenities: Tavern and café in Ethia. The Ethia Parish Guesthouse offers accommodation at low prices, following arrangement with the Parish (ask at the village). A camping site is available to the public at the Information Centre of Ethia (in the Ethia old school yard – Inquiries at the Town Hall). Cafés, grocery stores and taverns at Rotasi and Mesohorio
The trail can be easily discerned and starts at Rotasi village. It follows an uphill route and passes through geological formations such as 'Tafkos tou Peristera', an impressive doline that is 15-20m deep, created by the collapse of a cave roof. Continuing onwards, you will pass 'Rouso Egremo', a complex of limestone ridges that climax at the 'Langadi stis Trypes' location. There is also a spring there. Further along, the path intersects with the road, which you leave behind and continue towards Ethia, where the first part of the trail ends. At Ethia drop in at the visitor information centre, where you can find information on the Asterousia Mountain Range protected area, watch a documentary, pick up pamphlets, while you can also camp out if you wish to do so.
Those of you with the necessary stamina can continue onto Ethia gorge, also known as Chavga gorge or Vorno gorge. This is an old goat trail, suitable for mountain climbers or experienced hikers, as there are some rather hazardous stretches along the way and the path is not easily discernible. To get to the Vorno trail follow the road from the Information Centre, turn right into the alley immediately after the café and head straight on until you reach the Ethia-Achentria country road, which you cross and continue through the fields, heading to the gorge.
As the path is an old goat trail, it is easy to miss, so ask local farmers about locations and place names, such as 'sto galano charaki', 'st' Apatsanou to ryaki' (water spring), 'o Stavros' plateau, 'o Gero-trochalos' (an outdoor stone-built dairy farm), ' sto Souvloto Mouri', 'stis Kato Porous' with the picturesque chapel, 'ston Apano Poro' with its limestone ridges, 'platoma tou Kastelou', where you have to be careful as the trail starts getting dangerous due to the gravel covered slope, which becomes even more dangerous before the next water-eroded patch [nerofagoma]. 'Spiliara', a large rock shelter that can be made out from far away, marks the exit from the gorge.
The trail ends at the bed of the gorge, where you have to start heading west in order to reach Rotasi. Be careful of wire fences encountered throughout the route, the gates of which you must close behind you… it is an unwritten law of the mountains throughout Crete.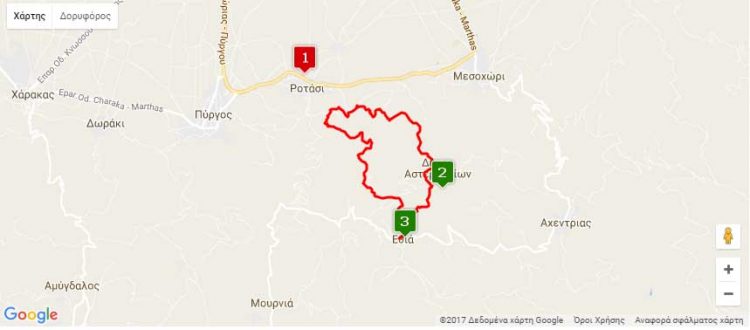 source: archanes-asterousia.gr