Nearest hamlets: Kounavoi, Peza, Myrtia, Astrakoi
Distance: 10.9km
Duration: 3 hours
Entrance coordinates: 35° 13.674'N / 25° 12.219'E (Peza – biological treatment plant)
Exit coordinates: 35° 18.745N / 25° 12.075'E (Mesa Karteros – water mills)
Trail type: Well-trodden trail with basic markers. Be careful when locating the entrance, as it is not clearly marked
Difficulty: Moderate
Recommended season: Spring, summer, autumn. Be very careful in winter, because of rainfall. At least your feet and legs must be covered.
Amenities: Taverns, cafés and accommodation at Kounavoi and neighbouring Peza (Central Authority of the area).
Kounaviano Gorge is the second main branch of the Karteros River. At its end it meets the second tributary branch (Astrakiano Gorge) and together they end up at the sea, 5 kilometres later.
The trail begins at the biological treatment plant in Peza and follows the banks of the river/gorge along a lush green path; there are wooden bridges with railings at its hardest points.
Along this route there are traces of springs, small bridges, water mills and building ruins from times passed.
At the end of the route, at the northern exit of the gorge, near Karteros Beach, stands one of the most interesting watermill complexes in the region.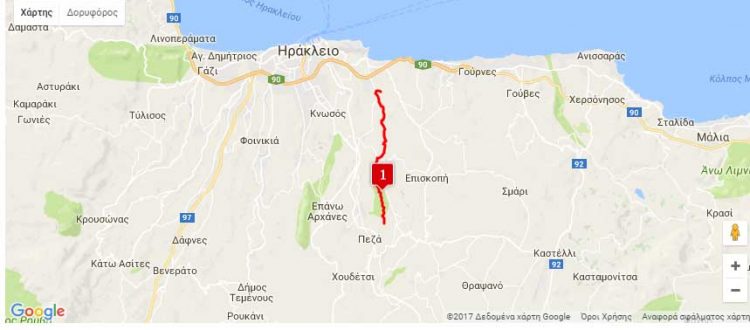 source: archanes-asterousia.gr