Nearest hamlets: Astrakoi, Myrtia
Distance: 7.1km
Duration: 3 hours
Entrance coordinates: 35° 14.128'N / 25° 13.230'E (Kato Astrakoi)
Exit coordinates: 35° 16.412'N / 25° 12.251'E (Intersection with Kounaviano Gorge)
Trail type: Partially destroyed well-trodden trail. Markers on signs and rocks, some of which have faded
Difficulty: Moderate. Special care should be taken at specific points, and clothing must cover at least feet and legs.
Recommended season: Spring, summer, autumn. Be very careful in winter, because of rainfall.
Amenities: Taverns, cafés and accommodation at Astrakoi and Myrtia, which also houses Nikos Kazantzakis Museum
The section of Astrakiano gorge that we recommend in this trail starts at Kato Astraki. After Agios Georgios church there are stone steps leading to 'Neraidospilio' [Fairy-cave]. This is where the trail starts, running alongside the creek, with some basic crossing infrastructure at the difficult points along the way. The old Ottoman aqueduct is visible along the trail.
Pay close attention during the first kilometre after Neraidospilio, as the river and wild vegetation have destroyed some crossings. You also need to observe markings on the rocks so as not to miss a detour in the trail due to the crossing ahead having been completely destroyed. The trail runs parallel to the riverbed until half way along the route. After that point it runs high along the eastern slope of the gorge. The trail ends where the path meets the country road to Aitania, but you can continue to Karteros if you so wish.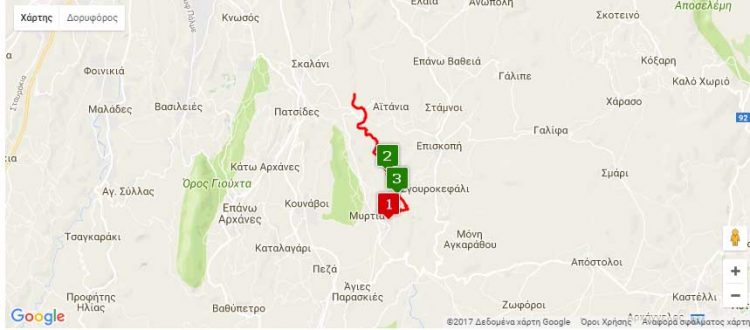 source: archanes-asterousia.gr