Distance: Achentrias – Pyrgos 22.8km, Achentrias – Treis Ekklisies – Pyrgos 37.4km
Entrance coordinates: 34° 59.454'N / 25° 13.420'E (Achentrias)
Exit coordinates: 35° 0.405'N / 25° 9.152'E (Pyrgos)
Difficulty: Achentrias – Pyrgos: Moderate, Achentrias – Treis Ekklisies – Pyrgos: Difficult
Amenities: Cafés at Achentrias. Taverns, cafés and accommodation at Pyrgos, where the Town Hall is also located
The route starts at Achentrias. It starts off uphill for 2.5 km with continuous, quick changes in incline, which reaches 9% at certain points. Then there is a continuous, mainly flat stretch of well-trodden dirt, with quick turns that lead to an impressive opening at the 4th km affording a view of the Libyan Sea.
After 6.3 km the route goes down a hill, passing through the cobbled alleys of Ethia, before entering a speedy descent on asphalt, and then re-entering the dirt, leaving a small gorge behind on the left and passing through the village of Mournia.
The descent continues until the 15th km where you can choose to turn left for a technically demanding descent towards Treis Ekklisies, down a 6.4km stretch of an average incline of 7.2%, and a maximum incline of 11%. You can also choose to continue straight on until the right turn to Prinia, where the last uphill stretch of the route, 3.1km at a 4.8% incline, starts, before the fast descent to the finish line at Pyrgos.
  Κατεβάστε το KML αρχείο της διαδρομής στη συσκευή σας:  (kml) Αχεντριάς – Πύργος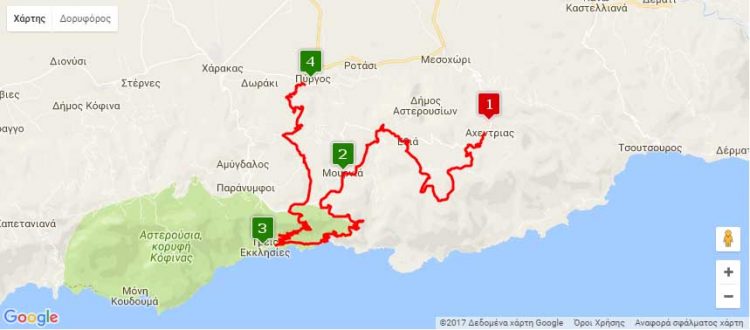 Source: archanes-asterousia.gr