Distance: 12.9km
Entrance / exit coordinates: 34° 59.422'N / 25° 13.509'E (Achentrias)
Difficulty: Moderate
Amenities: Cafés at Achentrias
This route starts inside Achentrias. After 350m on the village asphalt, the route moves to a wide, well-trodden dirt road with gravel, which is mainly flat for the next 2.5 km.
There, against the backdrop of the imposing Asterousia Mountain Range and the enchanting Tsoutsouras and Maridaki beaches, starts the first half of the circular stretch, approximately 3.5km downhill, with quick turns and increasingly technically demanding patches, as the incline gradually becomes steeper and the route enters narrower downhill paths with large rocks and eroded terrain.
Then comes the second half of the tour with a demanding 6km uphill stretch at an average incline of 5.1% and a maximum of 9%. The last 2.5 km are slightly uphill until you arrive back in Achentrias.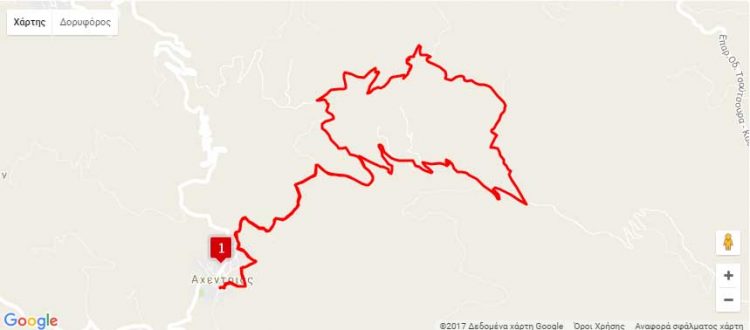 Source: archanes-asterousia.gr